TubeAim
Boost Your Content and Ads as a YouTube Advertiser. Optimize your video for keyword traffic. Analyze your competitors' channel(s).
Introducing
TubeAim!
Youtube ads are used to Brand and Promote your product. TubeAim is a great tool to find actual videos for promoting your product and get real-time traffic. You can choose the most viewed videos to put your ads on!
Product features
This tool will optimize your workflow in minutes. Place your ads only on precisely selected content.
Search by Monetized Videos
TubeAim is a YouTube search engine that helps you find monetized videos you can run your ads on.
Well, that ends today!
This allows you to save hours of manual search by typing in a keyword and immediately finding videos and channels that already have monetization activated on.
Search by keyword, channel or related videos with monetization using a URL.


You can also add Advanced Search parameters such as search priority, published date, language used, license type, video definition and video duration.
Sort by most viewed, date, likes, subscribers and more.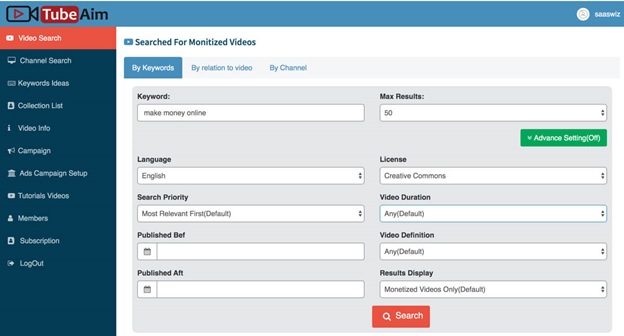 TubeAim also supports all languages currently supported by YouTube (hola señores y señoritas!)
To use the tool is as simple as 1, 2, 3:
1. Enter your keyword (you can select Google or YouTube as the main source for the keyword).
2. Select the videos you want your ads to be placed on.
3. Download a CSV file with every video URL you can then upload to Google AdWords.

You can also save your videos to a Collection List for future reference and editing, as well as watching the videos on the built-in Video Gallery.
Like working on multiple tabs at once? (Or should I say, do you suffer from 3-second attention span like me? Squirrel!)
Then you're going to enjoy using TubeAim's Multi-Tasking System that allows you to perform several searches at the same time in multiple tabs… Time is money, right? 🤑
Run an agency with clients and want to TubeAim's branding from the platform?

No worries, TubeAim gives you the ability to have sub-accounts, add your own logo and remove their branding.
*Adding your own custom URL is not possible yet. However, sub-accounts are under a generic URL that directs traffic to the sub-account login page: https://yt-research-app.com/
Here's the thing…
Out of the big advertising boys, YouTube has to be the most underused ad platform by marketers and business owners alike.
YouTube boasts with 2 billion monthly active users and is only second to Google in the most-used-sites category around the world, as well as showing an average increase in purchase intent of 53% (source).
This is when you realize that if you're not running YouTube ads for your business, then you're missing out!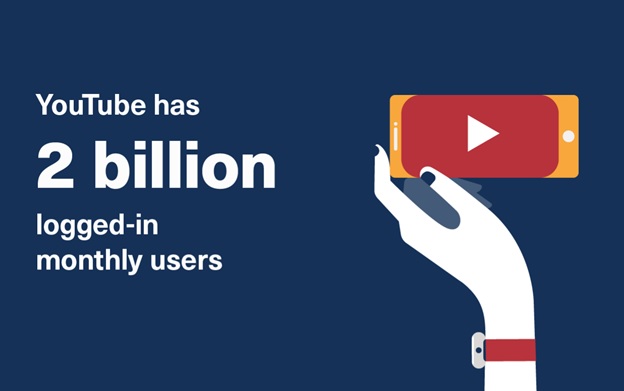 Your SaaSWiz Exclusive Deal
TubeAim currently costs $47/mo or $397/one-time, but today you can get it for a one-time payment starting at just $39!
Get your TubeAim deal with 50 searches per month for a one-time fee of just $39!

2 stacks come with 200 searches per month, as well as Collection Lists and Advanced Search Parameters.
A 3-stack adds unlimited searches for you.
If you have clients and would like to offer the platform under your brand, aka white-label, you just need to pick the add-on that suits you best according to number sub-accounts.
**Each sub-account will have the same feature as the stack you get, e.g. A $49 add-on gives you 3 sub-accounts with 50 searches/mo each if you bought a single $39 code, 200/mo each if 2-stack ($78), and so on.
Need onboarding help? Please contact TubeAim at help@tubeaim.com
Joined our Facebook Group yet?

If you're ready to aim for the stars with the right ads on laser-targeted monetized videos, then…
Get your TubeAim Lifetime Deal today!

Deal Specifics
TubeAim 1-Stack
---
$39
50 searches per month
Search by Related Videos
Search within a Youtube Channel
Channel research
30-day money-back guarantee
TubeAim 2-Stack
---
$78
200 searches per month
Search by Related Videos
Search within a Youtube Channel
Channel research
Collection lists
Advanced search parameters
30-day money-back guarantee
TubeAim 3-Stack
---
$117
Unlimited searches per month
Search by Related Videos
Search within a Youtube Channel
Channel research
Collection lists
Advanced search parameters
30-day money-back guarantee
3 Sub-accounts
---
$49
3 Sub-accounts
No TubeAim Branding
Sub-accounts have same features and resources as the TubeAim Stack code you get
30-day money-back guarantee
10 Sub-accounts
---
$99
10 Sub-accounts
No TubeAim Branding
Sub-accounts have same features and resources as the TubeAim Stack code you get
30-day money-back guarantee
25 Sub-accounts
---
$199
25 Sub-accounts
No TubeAim Branding
Sub-accounts have same features and resources as the TubeAim Stack code you get
30-day money-back guarantee