With the rise of social media, social proof and social badass-ery (that a thing?) We have all come to be fond of reviews…
I know this guy who reads reviews even on the toilet paper he buys… Well almost.
The thing is, no matter what industry you're in, it's a fact that reviews can either make or break your business.
Now, what if you could have a gatekeeper that filters bad reviews from the good ones before they go live for everyone to see? 😱
You could ask all your customers (the good, the bad and the ugly) for a review without a worry!
That would be a game-changer, wouldn't it?
Introducing Symplii Reviews!
Symplii Reviews is your new simple way to get more reviews for you and your clients' business.
When statistics show that 86% of consumers read online reviews to decide if a business is good or not, and 77% of people mostly care about reviews left in the last 3-6 months (Brightlocal), you know it's crucial for you and for your clients to have a constant inflow of new 4 and 5-star reviews.
So, let me explain how Symplii can help you…
Symplii Reviews is a Reputation Management system that helps you manage your online reputation #reputationintact
Here are 4 steps to explain how it works:
First, you

send

customers an email or SMS with a unique link to a simple landing page requesting a review.

Your customer is greeted with a message and a star rating choice.

Customer selects

a 1, 2, 3, 4 or 5-star rating.

A selection of 1-3 stars, funnels the customer through to a

private feedback form where they can complain about your service (only you can see this), but a selection of 4-5 stars funnels the customer through to Google, Facebook, TripAdvisor, TrustPilot, and a choice of 20+ other sources where they can leave you a public review #reputationintact
Need a more visual explanation? I got you 😉
Choose review funnel on the back-end from stars, faces, thumbs or big buttons.
Your customers receive an email or SMS, click on the link and rate their experience.
If the customer chooses 1-3 stars, they get redirected to a feedback form where they can leave a private review. You then get an email so you can follow up and make amends.
If the customer chooses 4-5 stars, they're prompted to leave a public review on whatever review source you've chosen. Symplii 😀
The beauty of it all is that you can bulk-send review invitations to all your customers, and Symplii's gatekeeper will protect your reputation through its review funnel…
I mean, it doesn't get much easier than that!
What's more to like: A nice dashboard + plenty of analytics to go around = shut up and take my money! 🤑
Dashboard overview
Reviews overview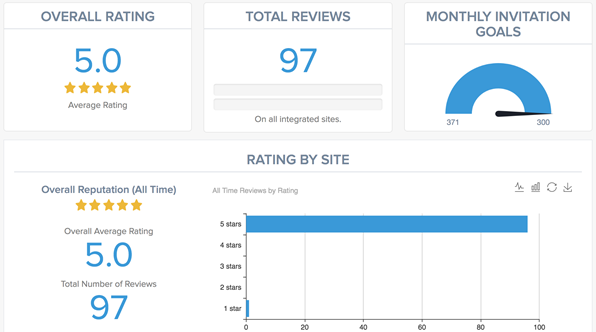 Analytics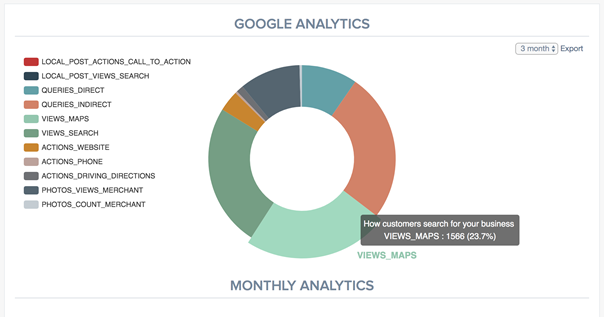 Give me all the analytics! 😍
I hear you have multiple businesses… Or was it you got clients you want to offer Reputation Management as a service to? 
Not a problem; the Wizard's got you covered!
The amazing team at Symplii, with a little magic from the Wiz, are giving you 5 locations/businesses per code! Yup, we cray cray! 🙃
We truly appreciate your patience leading up to the deal so we're adding as much value as possible…
Each code includes a small number of SMS's every month for the life of the product. No one, to the best of my knowledge, has offered this before!
Look, 30 SMS per month might not seem like a lot, but if your business or your client's business is solid and you convert at, let's say… 15-20%, 5-6 new reviews per month can make a big difference for a small business… 
That's 60-72 new reviews in a year that you get for free, included in your plan… Are you in love with me yet or what? 😘
Symplii has also introduced AI backed by Cloud Machine Learning with natural language processing to come up with NPS, magnitude and positivity scores.
Your SaaSWiz Exclusive Deal
Here is the thing, business owners around the world are paying top dollar to use the Symplii dashboard, but SaaSWiz has worked some magic for all Wizards today…
Get your own Reputation Management system for 5 locations with 5,000 emails and 30 SMS per month for a one-time fee of just $59!
Stack 3 codes to get a custom domain link (CNAME) thrown in.
Stack 5 codes and above to get upgraded to Agency with a Whitelabel dashboard and your own branding.
Agencies can also set up customers through a public signup link and offer a free trial – usage comes out of the Agency's allocated resources.
Stack an unlimited number of codes!
Each new stack doubles the resources of a single code (e.g. 2 codes gives you 10 locations, 10k emails and 60 SMS per month. 3 codes is 15 locations, 15k emails and so on).
Extra SMS: $15 per 1,000 SMS US/Canada package.
Extra locations: $10/month per extra location.
Messenger Add-on: $15/month per location.
Roadmap: https://trello.com/b/A9EfwsIk/symplii-public-roadmap
Need help? Please create a ticket at https://help.symplii.io/
Join the discussion in our private group: SaaSWiz Group
**Symplii.io is a new brand by parent company Elevatie.com – Elevatie is an established company servicing Enterprise-level clients with over 1,000 users.
Symplii Reviews was created to enter a different segment of the market with a more affordable offer, yet using the same level of features offered to Enterprise clients. We now get the chance to help the Symplii team shape their future offering which is very exciting!
Supported Review Sources
Google, Facebook, Trustpilot, Tripadvisor, Twitter, Yellow Pages, Foursquare, Zomato, Bookeo, Homestars, BBB, Houzz, DealerRater, Unhaggle, Carguru, Dentrix, SalesForce, OpenTable, Glassdoor, Indeed, Porch, RateMDs, Cars, Edmunds.
Deal Specifics

*Stack an unlimited number of codes*
$59
5 locations/businesses
5,000 emails per month
30 SMS per month (account-wide, not per location)

Unlimited team members

50% Off add-ons (Messenger, Mentions, more SMS, etc)

Symplii branding

10-day money-back guarantee
$177
15 locations/businesses
15,000 emails per month
90 SMS per month (account-wide, not per location)

Unlimited team members

50% Off add-ons (Messenger, Mentions, more SMS, etc)

Custom domain (CNAME)
Symplii branding

10-day money-back guarantee
$295
25 locations/businesses
25,000 emails per month
150 SMS per month (account-wide, not per location)

Unlimited team members

50% Off add-ons (Messenger, Mentions, more SMS, etc)

Custom domain (CNAME)
Whitelabel dashboard
Ability to connect own Twilio account (this will revoke included SMS)

10-day money-back guarantee