We all know that in this day and age having an online presence for your business (or your client's business) is no longer an option but a requirement.
Getting found online is a necessity in this current climate, yet many business owners are leaving a truck load of cash on the table by not paying close attention to their online reputation and presence…
Well, all that changes today thanks to myPresences! 💪
Watch our webinar replay below and join our Facebook community to ask questions HERE.
myPresences is the perfect tool for local businesses and agency owners who want to dominate their online presence.
The platform packs a real punch! 👊
You can monitor your business listings on any of the 2,000+ services it integrates with, get reviews, track a few keywords your site ranks for and even do some much needed lead generation for your business.
Let me show you how it works:
Just simply enter your business details and industry, and in just a few moments you'll see where your business is and where it should be listed online.
You'll also see anywhere your listings can be improved by making them more accurate, complete and consistent.
⚠️  Pay special attention to the online listings that are in the "must list" and in the "highly recommended" list. You really want to be on those!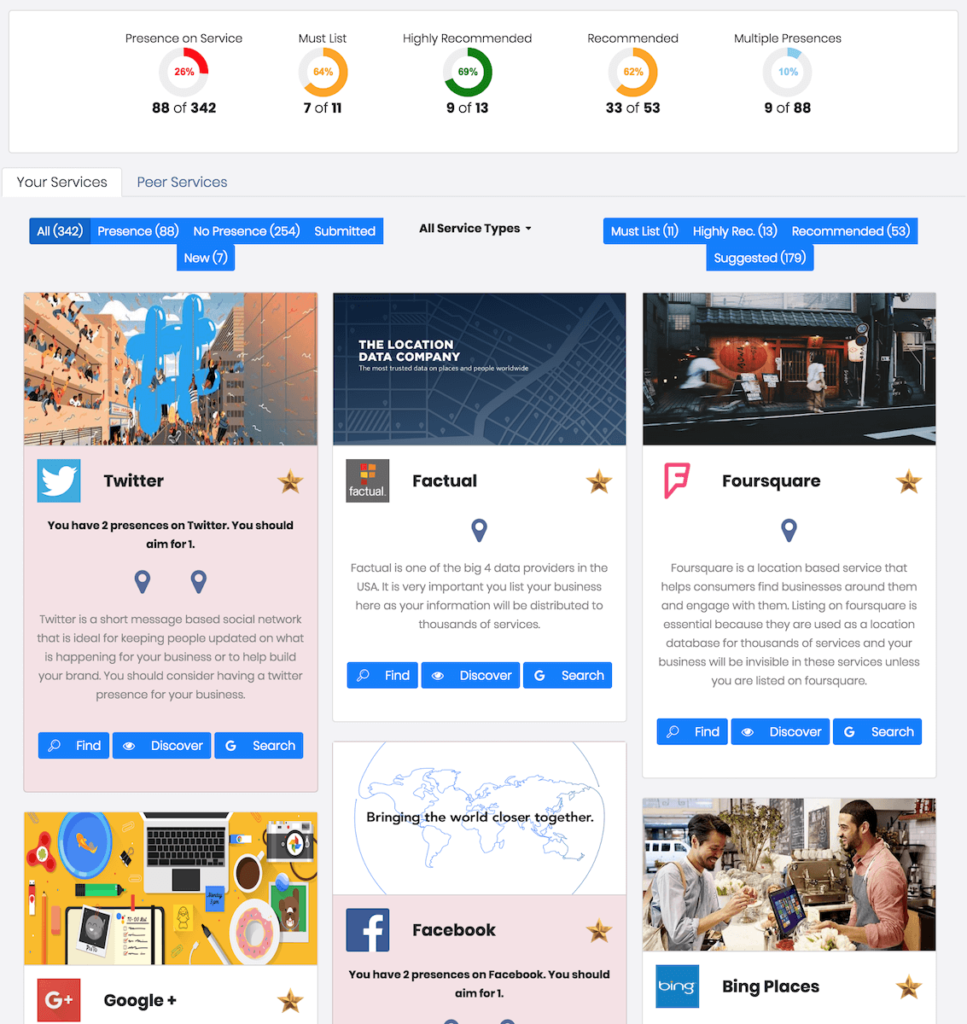 myPresences comes packed with analytics that show you where you have an online presence 📈
If any of your details are different across the different listings, myPresences will highlight this so you can make the necessary changes…
This is crucial for your local SEO efforts as Google puts a high value on NAP (Name, Address and Phone) and will punish your rankings if you're not providing the correct information to its users.
Getting new reviews is super easy.
Select email or SMS/text. Create a template. Add your contacts and you're golden 😎
myPresences automatically monitors your ratings and reviews on 100+ review services and notifies you when you receive a new review or your rating changes.
When asking for reviews, you have a few different options for your review policy… Yes, review gating is possible but it can be turned off if you want to stay on Google and Yelp's good books!
Brag… sorry, display beautiful widget reviews on your website with unlimited views and zero myPresences branding! 😍
Choose whether you want to display your reviews as a list, carousel, in a grid or even as popups (bit Endorsal-like? 🤔)

See a video demo here.
As an added bonus, you can track up to 20 keywords per location/business on Google Search, Google Maps, Bing Organic and Bing Local.
Here's the unique proposition though…
myPresences will show rankings for your business's presences, not just your website 😮
So if for example, you have a Yelp or any other listings ranking better than your website, you'll be able to see that and have a better idea of how well you rank for that specific keyword.
As far as we know, this feature is not available anywhere else, not even in the major SEO tools as they don't monitor presences.
⚠️  Now, before the SEO crew crucifies me for "just" 20 keywords, please keep in mind that myPresences is not an SEO rank tracking tool. This is just an added bonus for you and your clients. Ok, love you SEO's! 😘
🗣️ Freelancers and agency owners… hear hear 🗣️
You're absolutely going to love what myPresences will allow your business to do:
Access to the agency

white label

platform.

Produce custom white label

reports.

Take advantage of its white label

listing creation service

for 200+ services at 50% off 😱

Yes, myPresences can help you generate an extra income stream from its white label listing creation service. 
Conveniently place an order through the platform for one (or all) of the 200+ services that are available at just $2.50 per listing. Provide a few details. Then you just wait…
Depending on the number of required listings and demand, you will get a report in about 10 days with the work that was done.
Oh, by the way, you can of course charge your client whatever you want for this! 😉
Need extra help with lead generation?
myPresences is developing a powerful lead generation tool widget you'll be able to add on your website to generate more leads.
Mr or Mrs. Business Owner enters their business name. The widget then populates their details and they can hit "scan".
myPresences then shows them an online report of what their online presence looks like, what is missing, and more.
They, of course, will see listing services that are applicable to their industry and will receive a call to action to contact you.
You get the lead. They get the report. Everyone's happy! 😁
What about adding extra clients/locations after the lifetime deal has ended? 🤔
Well, I have good news!
We're giving you a tiered 50% off monthly for the top plan (Involved) depending on the number of locations you have as per the image below #winning
Please know that we're just scratching the surface here… myPresences also gives you:
Automatic social images in the format of the social channels you use. Then you can post directly to GMB, LinkedIn, Twitter and Facebook in just a few clicks.

Hashtag management.

Influencer monitoring.

Image and video monitoring.

schema.org and metadata generation for your website.

Competitor monitoring and benchmarking.

Tracking over 100 online KPI's such as Web Vitals, Domain Authority, etc.

And so much more!
So If you're ready to dominate your online space…
Then get your myPresences lifetime deal today!
PS. Join our Facebook Group to ask all your questions.
PPS. You can find myPresences' Roadmap Here.
Your SaaSWiz Exclusive Lifetime Deal Terms:

Current features updates included.

Unlimited contacts.
Unlimited widget views.
10 + 3 competitors tracking per location.
Up to 20 keywords tracking per location.
Zapier (Pabbly Connect coming soon).
500 emails/month per location/business or use your own SMTP.
5c per SMS credit. US/Canada use 1 credit. All other countries will require 2 credits per SMS. Or use your own Twilio APIs.
$2.50 (50% off normal price) per listing for white label listing creation service.
Tiered 50% off monthly prices per extra location after the lifetime deal ends (not applicable to Involved 1 deal).
30-day money-back guarantee.
Code(s)

must

be redeemed within 60 days.
** Monitoring for presences and ranked keywords pauses if you haven't logged in to your account for 30 days in order to reduce server load and API calls while the data is not being used. Everything restarts and is updated again when you log back in.
** The lead generation widget (coming soon) is included in the deal with 10 complimentary scans per month. Extra scans will be charged at a reduced rate of 50c per scan. 
Need help with myPresences? Connect directly with the team via live chat on their website or email them at help@mypresences.com