We all know we ought to be doing LinkedIn outreach…
After all, it's the one place where you can find the best, most targeted prospects, yet we put it off. Why?
We do it because manual outreach is so darn time-consuming so we'll rather run some Facebook ads or send out a generic email blast to a bunch of info@ email addresses (true story)
Well, what if you could have an assistant sending out 100 connection requests per day (or a team sending 20x that!) while having everything neatly organized for you in a CRM for a small one-time fee? 😍
Sound good?
Then Linkdra is what you need…
Linkdra is a powerful LinkedIn lead generation tool for B2B marketers, agencies and recruitment companies that simulates human behavior when searching, reviewing and connecting with people on LinkedIn.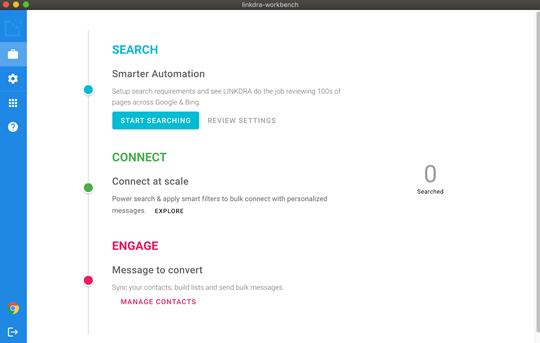 Its powerful multi-channel search over Google, Bing and LinkedIn helps you find the right prospects or candidates with its smart filtering that ensures you have a "Best Match" list ready to reach out in minutes!

When other tools focus mainly on LinkedIn search, Linkdra offers power search filters over Google and Bing, which gives you better matches (LinkedIn search in general is not as smart) in a much safer way since you're performing the automation outside of LinkedIn.
Set up templates with personalization to make it even faster and easier to land connections. 
You can send these connections in bulk or one-by-one after reviewing.
Set up your templates – Linkdra also adds name personalization once it sends the message
Export your 1st-degree connections as an Excel Sheet with any available details on LinkedIn such as company name, email, phone number and any other public info in your connections' profiles to power up your cold email/call campaigns outside of LinkedIn.
You can also use Zapier (coming in about 2 weeks) to push your leads to your preferred CRM.
But is it safe? 🤔
You bet it is!
Linkdra's powerful Workbench works directly from your Windows, Mac or Linux desktop, browsing, reading and connecting with profiles while mimicking human interaction in your Chrome browser.
Safe human-like browsing on your Chrome browser – Linkdra waits for a random number of seconds between reading each profile.
This is one of the safest ways to improve the outreach process on LinkedIn. Unlike most other tools using Chrome Extensions or Cloud Servers (proxies), which can get you flagged by LinkedIn, Linkdra doesn't need those things…
Linkdra works directly from your desktop just like you would use it as a user… it doesn't even need you to share your login credentials for it to work! 😎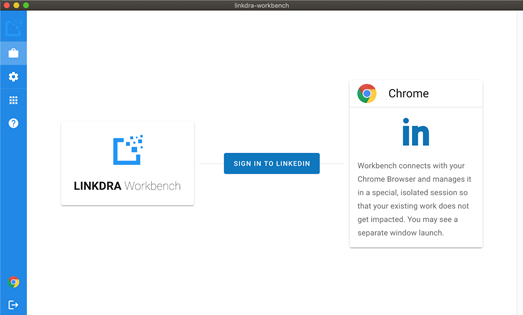 As an added layer of protection, Linkdra's built-in CRM helps you track daily reads and connections to ensure you are within LinkedIn's fair usage limits 👍
🗣️ Agency owners and recruiters, listen up! 
How embarrassing is it when two people from your company reach out to the same prospect? 🤦‍♂️
To avoid embarrassing yourself messaging the same prospect and wasting time on duplicate effort, Linkdra allows you to connect multiple users (each with their own LinkedIn account) to a unified platform and CRM.
This means your LinkedIn activities will be organized with status tracking and tags so that the whole team can be on the same page! 💪
Overview, activities and notes help you remain on top of things with the CRM.
Designed to run across most editions of LinkedIn including Basic, Premium, Sales Navigator and Recruiter Lite, Linkdra is not another LinkedIn automation tool, it's a smart assistant that helps you get results, every day in a safe way!
Your SaaSWiz Exclusive Lifetime Deal
As a full disclaimer: Linkdra is a new startup by Kenoli Systems who have been servicing their clients with talent sourcing and remote staffing since 2014. Linkdra is their way of opening to the whole world the system they've been using behind the scenes to win big for their own clients.
Linkdra has launched at $14.99/month per user but through SaaSWiz you don't have to pay that today…
Get your deal for 1 LinkedIn account with 100 connections per day a one-time fee of just $49!
2 codes get you 3 users (LinkedIn accounts) and 3 codes will double that to 6 users.
Now, if you're a larger team (or have big aspirations!) You can stack 5 codes to get a whopping 20 users in one unified account and CRM!
If you're ready to increase your outreach productivity by simplifying the process of searching, reviewing and connecting with prospects on LinkedIn…
Then get your Linkdra lifetime deal today!
Need help? Connect directly with the Linkdra on Discord HERE or through their contact form HERE.
Go here for Linkdra's roadmap.

PS. Joined our Facebook Group yet?

PPS. Live Webinar Replay HERE (you need to be part of our Facebook group to watch it).
PPS 2. Second Live and Exciting Roadmap Discussion HERE