So we know that every business owner should at least have a website, right?
Whether you sell on it, blog on it or have clients who want their customers to make bookings on it…
But what if you could increase your, or your client's, conversion, return customer and retention rates, as well as engagement, without the need to add anything to your website?
Would that pique your interest?
Convertify lets you convert your website into an Android and iOS app with just your URL.
You can have a beautiful app with no branding and no ads… unless you want to monetize your app with native ads of course!
It's never been this easy before to have your very own Android and iOS app!
Your future app is as simple as 1, 2, 3:
Submit your mobile optimized website URL to Convertify.
The Convertify team will deliver your app files within 24-48 hours using their proprietary system.
Upload your brand-spanking new app to the App or Play Store… or let US worry about the hosting for you (more on that later…)
Ok, so what are some of the use cases for having your own app? I'm glad you asked…
Maybe you or your clients have ecommerce stores and you mostly use emails and social media pages to keep in touch and send offers.
Well, according to the MailChimp Email Marketing Benchmarks, ecommerce gets 15.66% Open Rates and only 2.07% Click Rates (source…)
Not very good, is it?
And Social Media pages are not much better with Facebook's penchant for pushing business owners to run more and more paid ads as they continue to lower our organic engagement rates…
Ugh, Facebook Zucks!
Now imagine for a moment… You turn your beautiful website, that you spent a lot of time and money in, into your very own app.
You contact all your customers and tell them they'll get a discount if they download your app.
Then whenever you have a sale on, you simply push a discount their way via your own app using Unlimited push notifications for 1x App!
What if you get 100s or 1,000s of app installs?
You could start running some native ads or cross promoting in order to get another income stream… I mean, the sky's the limit!
So, could your next app look something like this?
Or maybe you have a coaching business you want to turn into an app…
How about your Real Estate clients… Could they benefit from having their own app?
Nolt.io and some other cool cats love Convertify!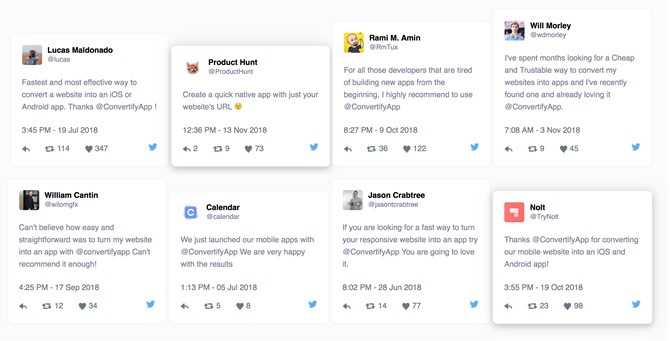 The thing is, business owners around the world are paying $69 per app + $49 for push notifications, but SaaSWiz has worked some magic for all Wizards today…
Right now you can get your very own Android or iOS app for a one-time fee of just $39!
How about push notifications? No problem… That will only be an extra $30 for Unlimited push notifications for 1x App!
SaaSWiz EXCLUSIVE:
We will host your new Android app for you for a one-time fee of just $49…
That way you don't have to worry about figuring things out, getting a developer license, and who knows what else you need to do to get your app live.
AND you know what else is really cool?
We've convinced the Convertify team to allow everyone to have an extended 6-month period to redeem their apps from the time of purchase!
That way you can stack as many apps as you like and you will have 6 months to redeem your apps on the Convertify website in case you'd like to buy apps for your clients… Didn't I say the sky's the limit? 🙂
Important disclaimer: Lifetime Hosting is only available for Android apps… We tried to come up with a solution for iOS apps for all Wizards, but Apple is very complex and strict when it comes to getting apps approved, often requiring changes to be made to sites such as improving mobile optimization and other things. This can create a lot of back and forth if someone else is doing the hosting for you, so offering lifetime hosting for iOS apps while keeping costs this low was not feasible.
Another important thing to know is, because of the nature of the deal, a 30-day refund period will only apply to apps that have NOT been redeemed. Once you request an app and it's delivered, there cannot be take-backs as an app is an asset, not a license or account access that can be revoked.
Deal Specifics